Canadian soldiers return home from Afghanistan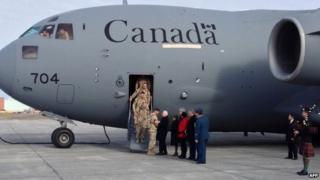 The last Canadian troops to return from Afghanistan have been welcomed home by Prime Minister Stephen Harper.
Eighty-four soldiers arrived in Ottawa on Tuesday morning on a military aeroplane escorted by fighter jets.
"Welcome home and job well done," Mr Harper said. He said the troops had "brought to a close the longest active military engagement".
Canada lost 158 military members during its 12-year mission in Afghanistan.
"Thank you to all members of the Canadian Armed Forces, to those who served in Afghanistan and those who made it possible for them to serve," Mr Harper said.
Tuesday's ceremony, also attended by Canadian Defence Minister Rob Nicholson, marks the official end of Canadian involvement in the country.
The Canadian flag was lowered at Nato headquarters in Afghanistan on 12 March.
The ceremony in Kabul was held under heavy guard, broadcaster CBC reports.
Soldiers who arrived on Tuesday had spent a few days in Cyprus after leaving Afghanistan for a period of rest and "decompression".
Mr Harper has set 9 May as a National Day of Honour to recognise military contributions in Afghanistan.