Canadian Finance Minister Jim Flaherty resigns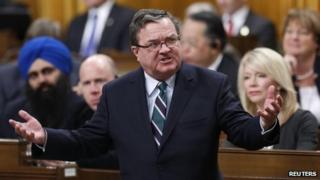 Canadian Finance Minister Jim Flaherty has resigned, announcing that he is returning to the private sector.
Mr Flaherty, 64, who has held the job for eight years, said that he would be returning to the private sector.
He said his decision is not related to his health - he has been treated for a rare skin disease over the past year.
He leaves Canada on a relatively sound financial footing ahead of an election planned next year for PM Stephen Harper's Conservative government.
"This decision was made because it is the right one for me and my family at this time," Mr Flaherty said in a statement on Tuesday.
"I am proud of the work I have done," he wrote.
There had been speculation in recent months that he might quit politics.
Mr Harper is expected to announce Mr Flaherty's replacement on Wednesday.
"Since 2006, he has been a steady hand, ably guiding Canada through the most challenging economic times since the Great Depression and gaining the country a solid global reputation for economic management," Mr Harper said of the outgoing political official.