New Jersey motel fire kills four and injures eight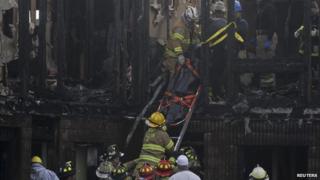 Four men have been killed by a blaze that devoured a New Jersey motel which was housing people displaced by 2012 storm Sandy.
Eight people were injured, three critically, in the fire at the Mariner's Cove Motor Inn.
It is not yet known what caused the blaze at the two-storey wooden motel by the seaside.
A fire last September destroyed about a third of the resort's boardwalk, which had only just been restored from Sandy.
Those caught in Friday's blaze described chaos and screaming as dozens of people inside the motel scrambled to escape the flames.
Joe Frystock was among those who were staying at the inn because their homes were deluged by the huge storm, Sandy, two years ago.
"I lost everything again, but I'm alive," Mr Frystock, a diabetic, told the Associated Press news agency.
"I only got out with my insulin kit, but this is what keeps me alive, so I guess I'm lucky."