Five charged with holding 115 hostages in 'stash' house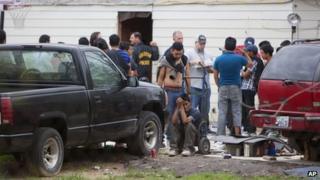 Five men have been arrested and charged with holding 115 suspected illegal immigrants hostage in a squalid "stash" house in Houston, Texas.
The men threatened the Latin American hostages with guns and demanded they pay to continue their illegal entry into the US, authorities have said.
The migrants aged five to 47 were found last week crammed into the small home, stripped of shoes and most clothing.
The freed captives face deportation at the conclusion of the police inquiry.
Jose Aviles-Villa, Jonathan Solorzano-Tavila, Antonio Barruquet-Hildiberta, Jose Cesmas-Borja and Eugenio Sesmas-Borja face federal charges of hostage-taking and violence with a firearm.
'Disappeared'
Mr Aviles-Villa and Mr Cesmas-Borja are said to be in the US illegally from Mexico. The immigration status of the other three suspects is not yet clear.
The former hostages told investigators they were kept under armed guard in filthy, unsanitary conditions. A stun gun, shotgun and rifle were reportedly found at the home.
The hostages were rescued last Wednesday when a tipster contacted authorities to say her daughter and two grandchildren were missing, after she paid smugglers $15,000 (£9,088) to deliver them to Chicago.
After she paid them, she was told she had to pay $13,000 more or they would "disappear", according to court documents.
Authorities traced the smugglers' phone calls to the Houston house and initiated surveillance.
When they entered the house police found 99 males and 16 females inside - more than a dozen of whom were minors - hailing primarily from El Salvador, Guatemala, Honduras and Mexico.
The daughter and grandchildren of the tipster were said to be among the captives.