Kerry flies to Jordan for Abbas talks as deadline looms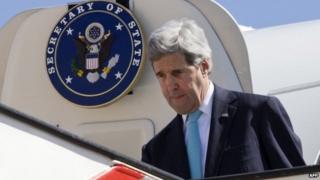 US Secretary of State John Kerry has interrupted a trip to Europe to press the Palestinians and Israelis to extend their peace talks as a deadline looms.
Mr Kerry flew from Rome to Jordan's capital, Amman, to meet Palestinian Authority President Mahmoud Abbas.
He also spoke by telephone with Israeli Prime Minister Benjamin Netanyahu.
A dispute over the release of a fourth batch of Palestinian prisoners from Israeli jails threatens to derail his plan to continue talks beyond 29 April.
Mr Abbas has insisted that they must be freed by the end of this month, in keeping with a promise made by Israel before direct negotiations resumed last summer following a three-year hiatus.
But with little sign of progress, Israeli officials have said that they are reluctant to proceed with the release unless the Palestinians commit to extending the talks and refraining from taking their case for statehood to the United Nations and the International Criminal Court.
The Palestinians have also said the 26 prisoners should include 14 Arab-Israelis, but the Israelis have insisted they made no such commitment.
The previous three releases were deeply unpopular with the Israeli public because many of the prisoners were convicted of murdering Israelis.
'Narrow the gaps'
Mr Kerry flew to Amman on Wednesday for talks with Mr Abbas to "continue to narrow the gaps", state department deputy spokeswoman Marie Harf told reporters.
"Obviously we've said both parties have had to make courageous decisions throughout this process to keep the negotiations going, and we certainly hope that will continue," she added.
Mr Kerry met Jordan's King Abdullah II before attending a working dinner with Mr Abbas. He will then return to Rome to join President Barack Obama at a meeting on Thursday with Pope Francis.
The US peace envoy, Martin Indyk, has been meeting representatives of both sides in the region since Saturday in an effort to prevent the talks from falling apart before the end of the nine-month period set for the negotiation of a comprehensive peace treaty.
If the prisoner release issue can be resolved, Mr Kerry wants both sides to approve a "framework" accord on core issues that must be resolved.
The issues include:
The borders between Israel and a future Palestinian state
The status of Jerusalem
Israel's insistence that it be recognised as a Jewish state
The Palestinians' demand that their refugees be allowed to return to their former homes in what is now Israel
Security in the West Bank, with Israel wanting a long-term presence in the Jordan Valley
Arab League leaders attending a summit in Kuwait on Tuesday expressed their "total rejection" of Israel's call to be recognised as a Jewish state.
The Palestinians recognise the State of Israel, but say recognising its Jewish character would have implications for refugees and Israeli-Arabs.