Ninety still missing in Washington mudslide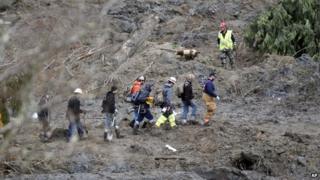 The number of people still missing in Saturday's catastrophic mudslide in the US state of Washington has dropped to 90, authorities have said.
The official death toll remained at 24 on Wednesday night, including eight bodies authorities say they have located but been unable to retrieve.
A 177ft (54m) wall of mud buried the town of Oso, north of Seattle.
Workers have been scouring the area for survivors and victims, using search dogs, helicopters and laser imaging.
Few answers
On Wednesday night, Snohomish County Emergency Management Director John Pennington told reporters the number of people unaccounted for had dropped to 90 from 176 the previous day, as dozens of people were found to be alive and well.
Additionally, at least 35 people are listed as having an unknown status, because authorities have been unable to determine whether they were in the area at the time of the mudslide.
"We need to take a step back and look at the magnitude of what happened," Mr Pennington said.
"The debris field is huge, it's complex, and it's dangerous. I don't think we have a lot of answers. All I can definitely say is that we have a number that is 90 and we're going to pursue that as much as we can."
The sudden, catastrophic mudslide on Saturday destroyed about 30 houses, temporarily damming a river and leaving a square-mile field of muck and debris in its wake.
"This disaster is so enormous, I sometimes think even the pictures don't always do it justice," said Congresswoman Suzan DelBene, who represents the area.
"The number of families that have been impacted, the number of people that they've lost, the number of people who are still missing. It's truly, truly heartbreaking."
'So many questions'
As a fifth day of searching came to a close, officials have said they have little expectation they will find anyone alive.
"It just generates so many questions if they don't find them," Becky Bach, whose brother and three other relatives are missing, told the Associated Press.
"I've never known anybody to die in a natural disaster. Do they issue death certificates?"
Local officials have begun turning away the streams of volunteers hoping to aid the search effort, Mr Pennington said.
And authorities said even the rescue dogs were growing fatigued.
The one sq-mile debris field is pocked with deep pits of water and strewn with sharp and dangerous wreckage, including fallen trees, propane and septic tanks, destroyed vehicles and smashed timber.
Survivors were last pulled alive from the mud on Saturday.