Oso mudslide: Washington state disaster site yields more dead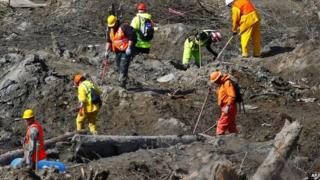 The death toll from a mudslide that hit the north-western US state of Washington has risen to 29 people, with 20 others still missing.
It has been 11 days since the town of Oso, north of Seattle, was struck by a 177ft (54m) wall of mud and debris.
Recovery efforts continue in the area, which is covered by mud 80ft deep in some places.
The landslide destroyed about 30 houses, temporarily damming a river and covering a major road.
Little sign of the community in Stillaguamish Valley remains in the disaster zone, which is strewn with piles of downed trees and the twisted remains of vehicles.
Incomplete remains
"The mountain didn't slide like an avalanche that starts at the top and slides down," Lt Richard Burke, a firefighter and incident spokesman, told the Associated Press news agency.
"It actually blew out at the bottom. And all of that energy, because of the weight on top of it, blew across the river and brought all that water and material in it."
Nineteen of the victims have been identified, ranging in age from two-year-old Brooke Sillers to 91-year-old Bonnie Gullikson.
Like the others, they died of blunt force injuries.
Crews are not always recovering complete remains, making it difficult to identify those killed, according to Jason Biermann, of the Snohomish Department of Emergency Management.
"Often they are making partial recoveries," he said on Tuesday.
The search operation has been hampered by days of heavy rain.
Mild weather on Tuesday was allowing crews to spend less time controlling the water and more time searching.
"We've been able to channel the water," said Lt Burke. "We got less folks controlling the water and more folks with their hands on the ground. And that's what we need."
But higher temperatures could create new problems as melting snow from the Cascade Mountains floods the mud pile.
"There's a lot of snow left on the mountains surrounding the valley," Mike Asher, an area fire chief helping run the operations, said.
"We're going to start facing runoff issues from that in the very near future."
The US Army Corps of Engineers was working on a plan to dig a river channel to keep water running away from the disaster site.
Governor Jay Inslee has estimated the cost of damage and cleanup will be at least $42m (£25m).