Washington DC Mayor Vincent Gray loses primary challenge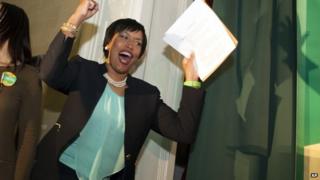 A Washington DC councilwoman has defeated the city's incumbent mayor in a crowded Democratic primary that will probably decide the city's next leader.
Muriel Bowser won 44% of the vote to Mayor Vincent Gray's 32%, with several challengers trailing behind.
He has faced allegations by prosecutors he knew about corrupt practices that helped him get elected in 2010.
The primary race often serves as a de facto election in the nation's capital, which is heavily Democratic.
Ms Bowser is set to face an independent councilmember in November's mayoral election.
'Distraction'
"The status quo is not good enough for us," Ms Bowser told supporters early on Wednesday. "We know that we can do better and we know we need a fresh start."
Ms Bowser, 41, who represents the city's north-eastern Ward 4, launched her campaign earlier than most and sought to capitalise on questions about Mr Gray's last election.
Opponents charged she lacked experience to be mayor, having been elected to council in 2007.
Her most significant accomplishment on the council was the creation of an independent ethics board able to punish city officials.
The board has since found wrongdoing by three members of the city's 13-person council.
Mr Gray now faces nine months of a lame-duck mayoralty under the weight of potential criminal charges against him.
Federal prosecutors said three weeks ago the mayor knew about an illegal election fund that helped him defeat incumbent Adrian Fenty in 2010.
Five people involved in his previous campaign have pleaded guilty in connection to the fund and the allegations against Mr Gray came as part of a plea deal.
The mayor has denied all wrongdoing and has not been charged with a crime. But his lawyer has said he is preparing for a possible indictment.
Gray supporters were suspicious of the timing, saying it was unfair to accuse the mayor of wrongdoing without charging him.