Past US 'plots' against communist Cuba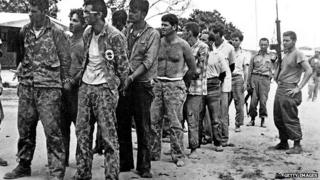 Reports that the US created a text-message social network designed to foment unrest in Cuba are only the latest in a string of alleged attempts by Washington to bring regime change to its unwanted communist neighbour.
The earliest moves took the form of plots to kill or remove the island's revolutionary leader, Fidel Castro.
And they began almost immediately after the 1959 revolution that brought him to power.
In 1961, Cuban exile groups trained and backed by the American CIA came ashore at the Bay of Pigs, 100 miles (160km) south-east of Havana.
In response, Fidel Castro rallied tens of thousands of troops and citizens to repel them, and two days later he declared victory.
After that fiasco, the CIA hatched various plots to kill the Cuban leader and, under the codename of Operation Mongoose, several assassination ideas are said to have been floated.
Historians are still debating whether some of the reported plots were serious or just myths.
Perhaps the most famous was the idea that Fidel Castro would be slipped an exploding cigar that had been laced with a toxin.
Another is reported to have been a plan to place an explosive seashell close to where the Cuban leader was diving.
Yet another allegedly involved coating the inside of Fidel Castro's diving suit with a fungus that would cause a chronic skin disease.
A 2006 documentary called 638 Ways to Kill Castro, also claimed that a lover of the Cuban leader agreed to a CIA plot to smuggle a jar of cold cream containing poison pills into his room.
It is said that when he learned of her intentions, he gave her a gun and told her to kill him but instead she broke down, saying: "I can't do it, Fidel."
US policy towards Cuba eventually focused on its trade embargo against the island.
Cuba is still designated a "state sponsor of terrorism" by Washington, which complicates financial transactions with Havana and makes it difficult for it to raise capital.
Restrictions imposed by the US trade embargo bar Americans and any firms with US interests from doing business there.