US accuses Chinese man of breaching Iran nuclear sanctions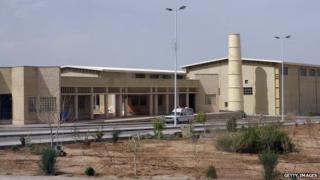 A Chinese national faces US criminal charges that he conspired to export devices to Iran that could be used in uranium enrichment.
US prosecutors said Sihai Cheng supplied thousands of parts to a company involved in Iran's nuclear programme in violation of US sanctions.
Mr Cheng is in custody in the UK after being arrested at Heathrow Airport in February on a US provisional warrant.
He faces a hearing in June over whether he will be extradited to the US.
Iran is subject to a raft of international sanctions over its controversial nuclear programme.
The US indictment, unsealed on Friday, comes as Iran and six world powers are trying to strike a permanent deal to address Western concerns that Tehran is secretly trying to develop a nuclear weapon.
Iran has always insisted it only wants nuclear energy.
Mr Cheng - who is based in Shanghai - is alleged to have conspired with an Iranian to illegally supply US-made pressure transducers to Iran through China.
These transducers - a special type of sensors - are alleged to have been sold to a "front" company for the Iranian nuclear programme.
Pictures are alleged to show the transducers in use at the Natanz enrichment facility.
BBC security correspondent Gordon Corera says that in the detailed indictment, it appears that an Iranian purchaser - also indicted - made a transfer from a UK bank into Mr Cheng's Chinese bank.
However, it is not clear if there were any further business dealings in the UK, our correspondent adds.
Iran's economy has been badly hit by international sanctions.
In an interim deal agreed last November, Iran agreed to curb uranium enrichment in return for an easing of sanctions.