Quebec holds provincial elections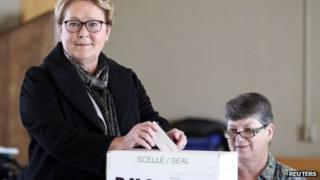 Polls have closed in the Canadian province of Quebec as the province's main separatist party ends its bid to win a legislative majority.
Parti Quebecois (PQ) led a minority government in the provincial assembly after the 2012 vote.
But its coalition partners had blocked its controversial Charter of Values which would ban public employees from wearing religious items.
The election has also revived debate over Quebec's independence from Canada.
Church and state
As she went to vote on Monday, PQ leader Pauline Marois said she was "very serene".
"I trust Quebecers will choose a good government to lead them and I am confident about tonight," she said, according to broadcaster CTV.
During the bitter 30-day campaign, Ms Marois sought to tamp down on discussion of Quebec independence after party candidate Pierre Karl Peladeau campaigned to "make Quebec a country".
That sidelined talk of the Charter of Values, with which the party had hoped to rally French-speaking voters in swing regions.
Ms Marois dissolved the provincial legislature and called an election in March, asking voters to deliver a majority that would enable the PQ to carry out its agenda, including passing the Charter of Values.
The charter would ban public employees from wearing religious articles such as Muslim headscarves, Jewish skullcaps and large crosses.
Protesters including Jews, Sikhs and Muslims have rallied against the charter, while supporters have argued it protects the separation of church and state.
The Liberal Party led by Philippe Couillard also seeks a majority. Running candidates, too, is the Coalition Avenir Quebec (CAQ), the third-largest party in the just-dissolved 40th Quebec Legislature.
Mr Couillard told reporters he was "happy" with the Liberals' campaign.
"I'm confident about the result but it's now time for citizens to speak," Mr Couillard said. "Politicians have spoken enough."
About six million people are eligible to cast ballots on Monday.
Experts have predicted the Parti Quebecois will struggle to gain control of the 125-seat legislature.
Instead, the Quebec Liberals - who are supporters of Canadian unity - may win a majority a mere 18 months after losing power, analysts say.