New York train crash driver had sleep disorder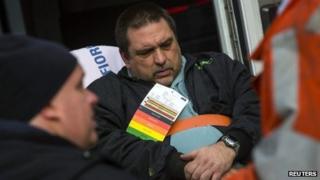 The driver of a New York commuter train that derailed in December, killing four, had a serious sleep disorder, investigators have revealed.
William Rockefeller was found to have "severe obstructive sleep apnoea" in a National Transportation Safety Board (NTSB) report released on Monday.
Officials have not said whether the condition contributed to the crash.
The Metro-North train was travelling at nearly three times the speed limit on a bend when it jumped the tracks.
Sharp curve
Mr Rockefeller was determined to suffer from the medical condition - in which breathing is briefly, repeatedly interrupted during sleep - during a sleep evaluation following the accident.
More than 18 million American adults experience sleep apnoea, according to the National Sleep Foundation.
Mr Rockefeller's lawyer and union leader have previously suggested the engineer fell asleep as the train entered a sharp curve before derailing.
The NTSB has said it will release its determination of the cause of the accident in a later report.
The train - heading to New York City's Grand Central station from Poughkeepsie, New York - was said to be travelling at 82mph (132 km/h) on a 30mph curve.
More than 60 people were injured as it derailed and came to a stop a short distance from the Harlem River in New York's Bronx borough.