Liberals set to form majority Quebec government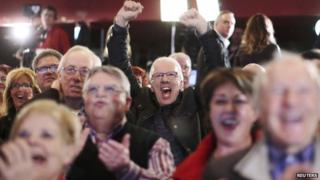 Quebec's Liberal Party is set to form a majority provincial government, routing the Canadian province's main separatist party.
Liberals have won 41% of the vote, with nearly all ballots counted.
Parti Quebecois (PQ) leader Pauline Marois has resigned in response to the crushing defeat, with her party only obtaining 25%.
She dissolved the PQ-led minority government last month, after the opposition blocked the party's agenda.
Liberal leader Philippe Couillard will now become the province's premier.
The election centred on PQ's controversial Charter of Values, which would ban public employees from wearing religious items, and a revival of the debate over Quebec's possible independence from Canada.
Turnout of Quebec's six million eligible voters on Monday was projected to be above 60%. Canadian media called the election for the Liberals less than an hour after polls closed.
'Makes me sad'
The Liberal Party has won in 70 out of 125 electoral districts, polling figures show.
Ms Marois, who lost her own district seat, announced she would step down.
"The defeat of our party makes me sad," she told supporters late on Monday evening.
"I am leaving my post."
Ms Marois dissolved the provincial legislature 19 months after Parti Quebecois formed a minority government, saying the main opposition parties had sought to block her party's agenda.
"I'm asking you to give us the means to act," Ms Marois said at the start of the campaign. "We have a plan and the team to make our plan succeed."
During the bitter 33-day campaign, Ms Marois sought to tamp down on discussion of Quebec independence after party candidate Pierre Karl Peladeau campaigned to "make Quebec a country".
Mr Couillard and the Liberal party capitalised on concerns about a potential PQ-led independence referendum for the mainly French-speaking province, arguing such suggestions "weakened" Quebec.
Two referendums on independence in 1980 and 1995 failed.
The issue sidelined talk on the Charter of Values, with which PQ had hoped to rally French-speaking voters in swing regions.
Protesters including Jews, Sikhs and Muslims have rallied against the charter, while supporters have argued it protects the separation of church and state.
Opposition parties Coalition Avenir Quebec and Quebec Solidaire were projected to win 17 and two seats respectively.
As she voted on Monday, Ms Marois told reporters she trusted Quebecers would "choose a good government to lead them".
Mr Couillard said earlier on Monday he was "happy" with the Liberals' campaign.
"I'm confident about the result but it's now time for citizens to speak," Mr Couillard said. "Politicians have spoken enough."