US: Iran UN envoy Hamid Aboutalebi 'not viable'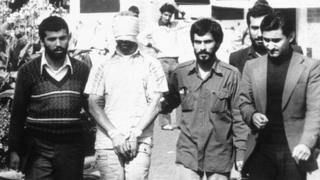 The Obama administration has told the Iranian government its choice of a one-time student revolutionary to be UN ambassador is "not viable".
White House spokesman Jay Carney called the potential nomination of Hamid Aboutalebi "extremely troubling".
Mr Aboutalebi was a part of the Muslim student group that seized the US embassy in Tehran in 1979.
On Monday, the US Senate unanimously passed a bill that would bar him from entering the country.
'Most recent insult'
"The legislation passed by the Senate underscores just how troubling this potential nomination would be," Mr Carney told reporters.
The House of Representatives is also expected to pass the measure barring him from entering the US. It would then require President Barack Obama's signature to become law.
Mr Carney declined to comment on whether Mr Obama would sign it.
Senator Ted Cruz, the Texas Republican who introduced the legislation in the US Senate, said his chamber "is not going to just ignore this most recent insult".
"This nomination is part of Iran's clear and consistent pattern of virulent anti-Americanism that has defined their foreign policy since 1979," he said.
The 52 Americans were held for 444 days during the crisis.
'Simply wrong'
Sources familiar with Mr Aboutalebi tell the BBC that he is one of the closest diplomats to Mr Rouhani.
In an interview with an Iranian news site, Mr Aboutalebi said he was not part of the group that took over US embassy and was only later asked to translate for the students.
BBC Persian's Bahman Kalbasi says Ebrahim Asgharzadeh, a known member of the core group of hostage-takers, corroborated Mr Aboutalebi's account in an interview.
"Occupying the embassy was the idea of five people, then expanded to 15," Mr Asgharzadeh said.
"After the embassy takeover, we invited close to 150 to 200 students to help us with different tasks of running the place. Some of the students would only commit to a few hours.
"I don't remember Mr Aboutalebi from those days but if he was, must have been one of those guys who was asked to help translate for reporter or a delegation. Calling him a hostage-taker is simply wrong."
The son of another member of the group of five students who took over the embassy also told the BBC: "The names of the first five and the 10 that joined to execute the takeover are public and there is no doubt that Mr Aboutalebi was not in any way a major player in planning or execution of the hostage taking of US embassy staff in Tehran."