Senate requests information on USAID internet projects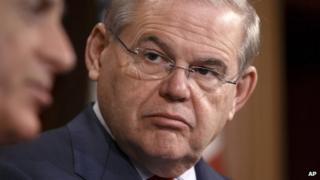 A US Senate panel has asked a foreign aid agency to turn over records related to its overseas internet access projects, amid reports it built a Twitter-like programme in Cuba.
The foreign relations committee also asked the US Agency for International Development (USAID) for copies of messages its programmes sent to Cubans.
The Twitter-like programme was revealed last week by the Associated Press.
It is said to be secretly backed by the Obama administration to stir unrest.
'Cuban Twitter'
In recent days the US has confirmed that USAID, which funds aid projects across the world, was behind a text-message service that was allegedly designed to foment unrest in Cuba.
ZunZuneo, dubbed a "Cuban Twitter", had 40,000 subscribers at its height in a country with limited web access, the Associated Press reported.
The project was said to have lasted from 2009-12 when the grant money ran out.
The US reportedly hid its links to the network through shell firms and by routing messages via other countries.
In hearings in recent days, members of the House of Representatives and the Senate have inquired why the operations in the communist nation were concealed and not carried out by an intelligence agency instead.
"Why would we put that mission in USAID?" Republican Senator Mike Johanns has asked.
"Why wouldn't you look at some other part of the federal government to place that mission? To me, it seems crazy."
On Thursday, Democratic committee chairman Senator Robert Menendez defended the agency, saying he did not believe USAID's efforts to promote "resilient, democratic societies that are able to realise their potential" were a "cockamamie idea".
"Our work in Cuba is no different than our efforts to promote freedom of expression and uncensored access to information in Ukraine, Russia, Belarus, Iran, China or North Korea."
The Obama administration has said the programme was not covert but instead operated "discreetly".
Cuban-born Republican Congresswoman Ileana Ros-Lehtinen earlier defended such programmes, saying "they are so important to offer the other side of the story, the side that promotes American values: God-given values like freedom, justice or liberty".