Ten die after lorry hits school bus in California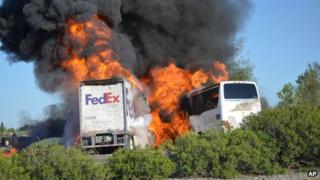 Ten people including five teenage students have been killed in a fiery bus crash in California.
On Thursday evening a lorry crossed the central reservation of a motorway and struck the bus, engulfing both in flames. More than 30 were injured.
The more than 40 students were on their way to Humboldt State University for a campus tour. Both drivers and three adult chaperones were killed.
The crash happened about 100 miles (160km) north of Sacramento.
The students were from the Los Angeles area, and many attended Los Angeles schools.
"Our hearts go out to those who have been affected, and we are here to support them, and their families, in any way possible," university president Rollin Richmond wrote in a statement following the accident.
Authorities learned of the crash at about 17:40 local time (00:40 GMT) and immediately dispatched convoys of emergency vehicles.
The vehicles were in flames when they arrived. They closed the northbound side of the motorway and established a mass casualty triage unit, officials said.
Nine people died at the scene and a tenth succumbed to severe burns in hospital.
An additional 31 people were taken to hospital with cuts and burns, some severe.
On Friday authorities began the difficult task of identifying the dead, many of whom were scorched beyond recognition.
A family member identified two of adults who died in the crash: Michael Myvett, 29, and Mattison Haywood, who were engaged in December.
The man who died in hospital was named by the medical examiner's office as Arthur Arzola, 26, a recruiter for the university.
In a statement, the Humbolt State University praised Arzola for his commitment to helping low-income and first-generation students get into college.
Investigators will now examine whether driver error caused the crash, and what role the weather and the roadway conditions played.