Michael Bloomberg in $50m gun law election push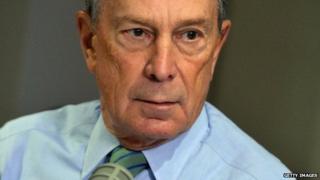 Former New York City Mayor Michael Bloomberg has announced a $50m (£30m) election year push for stricter gun laws across the US.
In an interview with the New York Times, Mr Bloomberg said his new group Everytown for Gun Safety would focus on building grassroots support.
Gun control laws face a difficult path in the US Congress, which is packed with allies of the powerful gun lobby.
But Mr Bloomberg noted that some states have tightened gun laws on their own.
'Hearts and minds'
In a co-ordinated media push on Wednesday, Mr Bloomberg said the new spending would not focus on TV advertisements but on outreach and organising campaigns, mirroring efforts by the nation's largest gun rights lobby group, the National Rifle Association (NRA).
"This is not a battle of dollars," the former mayor told NBC News. "This is a battle for the hearts and minds of America."
An ultra-wealthy financial and media mogul who served as mayor of New York from 2002-14, Mr Bloomberg has made gun control one of his central issues. He has already spent significant amounts of his own money on his campaign and helped organise a gun control group, Mayors Against Illegal Guns.
He spent $13m last year on an advertising campaign in an attempt to convince key US senators to support stricter background checks on gun sales.
That legislation collapsed under unanimous opposition from the Republican Party and amid reluctance among vulnerable Democrats from conservative states to take on the well-organised gun lobby.
The NRA did not comment on Mr Bloomberg's announcement, but another gun lobbying group told the Times the mayor was free to waste his considerable personal fortune on the issue.
"Frankly, I think he's going to find out why his side keeps losing," Larry Pratt, executive director of Gun Owners of America, said.
'Take my children'
Everytown will serve as an umbrella organisation for Mr Bloomberg's existing groups, Mayors Against Illegal Guns and Moms Demand Action for Gun Sense in America.
The push will focus on women voters, specifically reaching out to mothers online to press politicians running for the US Congress in this November's midterm election.
"The gun lobby has done a good job over the last 30 years of making a vocal minority afraid people will take their guns away," Shannon Watts, founder of Moms Demand Action, told NBC.
"As a mother, I'm afraid someone is going to take my children away, and I believe at the end of the day, that emotion will carry it."
Mr Bloomberg, who first ran as a Republican and then an independent, said he would bring both Republican and Democratic leaders on to Everytown's board, and rejected criticism he was making it more difficult for Democrats to retain the US Senate this year by criticising pro-gun Democrats.
"You can tell me all you want that the Republicans would be worse in the Senate than the Democrats," he told the Times. "Maybe they would. But that's not what we're talking about here"