Portland dumps 38m gallons of water after urination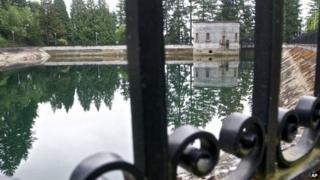 The US city of Portland, Oregon, is dumping 38m gallons (143m litres) of water from its reservoir after a teenager was caught urinating into the water supply.
CCTV footage of the Mt Tabor reservoir captured the man urinating and two others attempting to scale the reservoir's fence.
Portland water administrator David Shaff said the health risk was small.
But he said the agency would not serve "deliberately contaminated" water.
Upon learning of the contamination on Wednesday, officials immediately removed the affected reservoir from service and took water quality test samples.
The water will be replaced with fresh water from the city's Bull Run supply.
Portland emptied 7.5 million gallons of water from the same reservoir in 2011 after a man urinated into it.
On Wednesday, Mr Shaff said while animal waste often found its way into the reservoir without any public health risk, there was "at least a perceived difference from my perspective" on human waste.
"I could be wrong on that, but the reality is our customers don't anticipate drinking water that's been contaminated by some yahoo who decided to pee into a reservoir," he said.
He said the city had plenty of water to meet demand and that replacing the 38 million gallons would be "easy".
"We're not in the arid South-west. We're not in drought-stricken parts of Texas or Oklahoma."
But Floy Jones, co-founder of the group Friends of the Reservoirs, criticised the decision, saying if urine reached the water, it would not harm anyone.
"It's extremely wasteful," she said.
Three men ages 18 and 19 were cited for trespassing. One of the 19-year-olds was cited for public urination. Prosecutors are deciding whether to charge any of the three with a crime.