First deadly Albuquerque police shooting since US order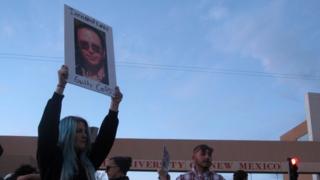 A New Mexico woman suspected of stealing a lorry was shot and killed by Albuquerque police, the first shooting since US officials ordered the city to reduce the use of deadly force.
Mary Hawkes, 19, is the 25th person killed by city police since 2010.
Police say she pointed a gun at close range at a pursuing officer.
A year-long US investigation found Albuquerque police had inappropriately killed suspects and used more force on those with mental illnesses.
In March protests against police violence ended with authorities firing tear gas at demonstrators after stones were reportedly thrown at officers.
The rally happened after a video emerged of police shooting dead a homeless man named as James Boyd.
It was filmed by the police using cameras and posted online following a public information request.
The US justice department has ordered the police department to reduce its use of deadly force, saying in an April report "excessive force stems from systemic deficiencies in oversight, training, and policy" in the city police.
In response, the city's mayor has hired a team to put reforms in place, and the justice department has scheduled a series of public meetings.