Chelsea Manning granted name change from Bradley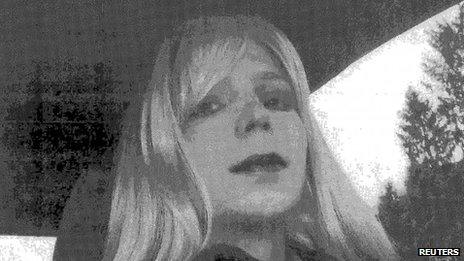 A judge has granted a petition from Chelsea Manning to legally change her name from Bradley, as the US soldier continues her 35-year sentence for leaking government files.
Pte First Class Manning, 26, was convicted of giving more than 700,000 US documents to the Wikileaks website.
She said in August she wanted to begin hormone therapy and live as a woman.
The former intelligence analyst has been diagnosed with gender identity disorder by doctors.
Judge David King granted the petition on Wednesday in Leavenworth, Kansas, near where Manning is imprisoned.
"It's a far better, richer, and more honest reflection of who I am and always have been - a woman named Chelsea," Manning wrote in a statement following the ruling.
The US soldier's struggles with gender identity formed a key part of the defence through the 2013 court martial.
Defence witnesses, including therapists who had treated Manning, testified the soldier had spoken of wanting to transition to being a woman, suggesting that these problems had affected his mental health.
The Army still reportedly treats Manning as a man and refers to her as Bradley Edward Manning instead of her preferred moniker of Chelsea Elizabeth Manning.
The court petition is considered the first step toward getting her Army records changed, but does not mean the military will transfer her to a women's prison unit.
The court action is "only a name change, and will have no other effect on his current status other than the name in his records", Army spokesman George Wright told the Associated Press news agency.
The US military has also declined to provide hormone replacement therapy to Manning, who served in Iraq in 2009 and 2010.