Canada to drop 'flawed' tankers after Lac-Megantic blast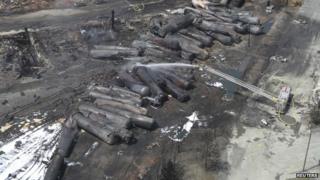 Canada says it will phase out the type of rail tankers involved in a deadly train derailment last July.
Transport Minister Lisa Raitt said the DOT-111 oil tankers, which are believed to be prone to rupture, must be retired or overhauled within three years.
She said 5,000 older cars considered to be the most vulnerable must be removed from service immediately.
Forty-seven people were killed in Lac-Megantic after a train carrying crude oil derailed and exploded in the town.
The train, with 72 tankers full of crude oil, had been parked uphill and was unattended when it began rolling out of control.
Several tankers exploded, destroying 40 buildings.
Concerns not new
The phase-out will affect about 65,000 tanker cars in North America. The DOT-111 model makes up about 70% of all rail tankers used in the continent.
"Three years is the amount of time that we thought was the best saw off between what industry said that they could do, and what is wanted by the Transportation Safety Board," Ms Raitt told a news conference on Wednesday.
Concerns about the tanker cars are not new. Experts say tend they to split open during derailments and major accidents.
The US Transportation Safety Board has been calling for the cars to be replaced since 1991.
Canada's own transport safety agency noted in its January report on the Lac-Megantic disaster that it too had been "commenting on the vulnerability" of the tankers for two decades.
Lac-Megantic Mayor Collette Roy-Laroche told reporters she was satisfied with the new regulations, saying: "Lac-Megantic is a community that requires rail transportation in order to maintain the development of its economy.
"But at the same time, Lac-Megantic is also demanding that there be proper regulations in place to ensure railway safety."
But Brian Stevens of Unifor, a union representing rail car inspectors, told broadcaster CBC the three-year timeline "lets Canadians down". He suggested that the tanker cars be banned from carrying crude oil immediately.
"They can still be used to carry vegetable oil, or diesel fuel, but for carrying this dangerous crude there should be an immediate moratorium," he said.