Inmates in Oklahoma 'secrecy' row to be executed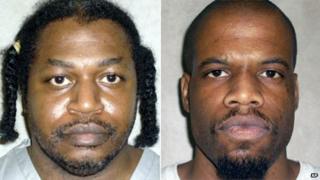 Two death row inmates who lost a case in the Oklahoma Supreme Court will be put to death in a rare same-day double execution, the governor has said.
Clayton Lockett, 38, and Charles Warner will be executed on 29 April, Governor Mary Fallin has said.
The court on Wednesday ruled they had no right to know the source of the drugs that will be used to kill them.
They argued knowing the source would keep the executions from being botched with impure or expired drugs.
Oklahoma last executed two men on the same day on 11 June 1937. Three people were put to death on 13 April 1917.
"The defendants had their day in court," Ms Fallin wrote on Thursday of Lockett and Warner.
"Two men that do not contest their guilt in heinous murders will now face justice, and the families and friends of their victims will now have closure."
The two men had challenged an Oklahoma state law that blocks officials from revealing - even in court - the identities of the companies supplying the drugs used to sedate inmates, paralyse their respiratory systems, and stop their hearts.
The state maintains the law is necessary to protect the suppliers from legal action and harassment.
Lockett and Warner argued it was necessary for the men to learn the name of the suppliers in order to ensure the quality of the drugs that would be used to kill them and to be certain they were obtained legally.
Execution already delayed
In March, a trial court ruled in their favour, but on Wednesday the state's highest court reversed that decision, ruling "the plaintiffs have no more right to the information they requested than if they were being executed in the electric chair".
"If they were being hanged, they would have no right to know whether it be cotton or nylon rope; or if they were being executed by firing squad, they would have no right to know whether it be by Winchester or Remington ammunition," Justice Steven Taylor wrote.
In recent years US states have had increasing trouble obtaining drugs used in executions, amid an embargo from European pharmaceutical firms.
Some have turned to untried combinations of drugs or have sought to obtain the drugs custom-made from compounding pharmacies.
Lockett was sentenced to death for the 1999 shooting of a 19-year-old woman. Warner was convicted for the 1997 murder and rape of an 11-month-old girl.
The court proceedings have already delayed their executions. Lockett was originally scheduled to die on 20 March, and Warner on 27 March.
The state said on 1 April that the men would be executed using midazolam, pancuronium bromide and potassium chloride - a combination never before used in Oklahoma, according to the Associated Press.