Canadian sailor who died in Tanzania named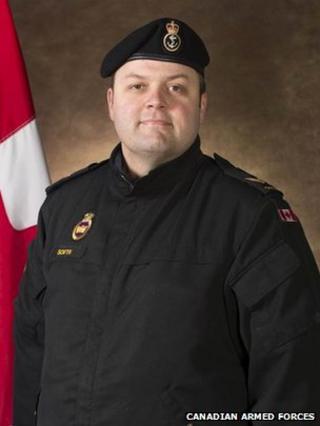 A sailor who died in Tanzania while en route home to Canada for scheduled leave has been identified as Leading Seaman Brandon South.
South was serving aboard HMCS Regina as a sonar operator. His cause of death is still unknown.
The sailor, a native of Windsor, Ontario, was the father of two children, broadcaster CTV reported.
The Regina began sailing in the Arabian sea in February as part of a counter-terrorism and anti-piracy operation.
In late March, the crew seized 132kg (291lb) of heroin.
Another Canadian sailor died in January aboard HMCS Toronto, which was serving under the same mission.
Lt Andrew Webster, 33, died in unclear circumstances in the Seychelles. At the time, Canadian forces only said foul play was not suspected in his death.
'Beloved shipmate'
Members of South's family spoke to Canadian broadcaster CTV on Thursday, calling him a "gentle giant" who was "hours away" from his flight back to Canada.
The Canadian Military Police are investigating his death with local authorities in Dar Es Salaam.
South was found unconscious at a hotel in Dar es Salaam and taken to hospital, defence spokesman Daniel Le Bouthillier told CBC.
The ship's commanding officer said in a statement the "Regina family is mourning the loss of one of our own".
"To say that he was a beloved shipmate would be an understatement," Commander Daniel Charlebois said.