Canada Supreme Court rejects Harper Senate reform plan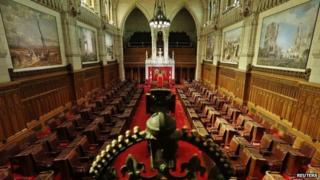 The Canadian Supreme Court has rejected the Harper government's plan to reform or abolish the Canadian Senate.
In a unanimous decision, the high court said most major changes suggested must be approved by seven provinces and half of Canada's population.
Prime Minister Stephen Harper said he was disappointed in the decision and said reform was now "off the table".
Senators are appointed on the advice of the prime minister and can serve until 75 years old.
The chamber has been recently embroiled in an expenses row.
Four senators in total have faced audits over their claims for living and travel expenses. An internal Senate panel has demanded repayment of large sums from the senators.
'Heart' of Canada federation
The plan by the ruling Conservatives sought to remake the Senate into an elected body, seeking limited, elected terms as well as other changes.
Mr Harper had sought the ruling from the Canadian high court after provinces rejected possible attempts to reform the Senate through voting in Parliament.
But the court said in its decision the Senate was "one of Canada's foundational political institutions".
"It lies at the heart of the agreements that gave birth to the Canadian federation," and therefore any change would be a constitutional question.
Specifically the court ruled that changes making the Senate an elected body would required the agreement of seven provinces and 50% of Canada's population. The abolition of the chamber would require the agreement of all 10 provinces.
Speaking at a separate event in Kitchener, Mr Harper said the government will abide by the decision.
But without any consensus among the provinces on Senate changes, the ruling was "for the status quo, a status quo that is supported by virtually no Canadian".
The prime minister added there was no desire "among anyone" to have "a bunch of constitutional negotiations".
But New Democratic Party leader Tom Mulcair said he will continue fighting to end the Senate, telling Canadian broadcaster CBC he has been talking to provincial premiers on the subject.
"We're not going to raise the white flag on this one," he said, accusing Mr Harper of being like former prime ministers who have "[realised] the Senate's a great place to name your bagmen, your henchmen, your political cronies".