Canada military orders sexual misconduct review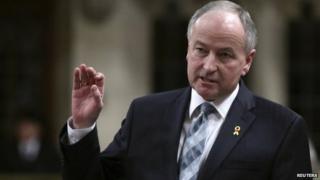 Canada's military has ordered an internal review after publication of a report suggested sexual assault "plagues" the country's armed forces.
An investigation by Canadian magazines Maclean's and L'actualite found five alleged assaults per day within the military community.
The report says those who reported rape or assault faced reprisals.
In a statement, Defence Minister Rob Nicholson said he was "deeply angered upon learning of the alleged assaults".
"Sexual misconduct of all kinds will not be tolerated within the Canadian Armed Forces," Mr Nicholson said, adding he had asked Chief of Defence Staff General Tom Lawson "to get to the bottom of these serious matters".
Gen Lawson said he said he had "directed an immediate internal review" of workplace programmes and policies.
"Further to this, I will consider options for external review."
The two magazines interviewed 12 alleged victims of rape or sexual assault and obtained records through access to information laws to develop the months-long investigation.
According to a preview video by Maclean's, the alleged assaults took place in a variety of locations, including postings in Afghanistan, and occurred to both women and men.
One the reporters told broadcaster CTV the military's culture discourages victims from reporting sexual assaults, as there is no way superior officers will not be informed of complaints.
"The fact that they are a military family, they are obliged to band together and be one team," Alex Castonguay said.
"It [breaks] all the unity inside the Canadian military so people are not complaining a lot, they are fearing retaliations."
The report follows a similar extensive investigation by MacLean's in 1998.