Why Women's World Cup champion Brandi Chastain bared her bra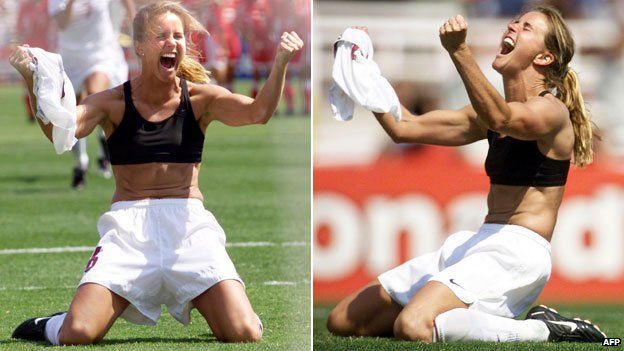 In 1999, US footballer Brandi Chastain shot to fame. After scoring the winning penalty in the Women's World Cup final she ripped off her shirt in a memorable and controversial goal celebration.
"The stadium was so incredibly quiet - it's amazing how 90,000 plus people could be silent - if I had to stop I could hear my heart beating," says Chastain, remembering the moment she stepped up to take the kick.
It was a sweltering evening in Chastain's home state of California - the vast Rose Bowl stadium was packed and the US were one goal ahead in the penalty shootout against China.
Normally, Chastain would have used her right foot but this time the head coach, Tony DiCicco, told her to use the left one, "I had never taken a penalty kick with my left foot ever before in a competitive match let alone a World Cup," she says.
DiCicco was worried that China had been scouting their penalty kicks during training and wanted to make things as hard as possible for the Chinese goalkeeper, Gao Hong.
Chastain and Hong had faced each other in a penalty shootout earlier the same year.
Hong "psyched me out," says Chastain. "She got in my head and as I approached the ball I was thinking more about her than about what I should be doing." As a result, Chastain missed the goal and the US lost that game.
But this time, at the World Cup final, Chastain didn't look up at Hong and concentrated on using her left foot. It worked. The ball hit the back of the net - the US were victorious.
"I whipped off that shirt and I kind of whipped it around in the air over my head and dropped to my knees as a 'Yes!' moment that we had done what we set out to do.
"I had no idea that would be my reaction - it was truly genuine and it was insane and it was a relief and it was joy and it was gratitude all wrapped into one," she says.
Photographs of Chastain kneeling on the pitch in her black sports bra swept around the world. It became an iconic image and three major magazines - Newsweek, Sports Illustrated and Time Magazine - splashed it on their front covers with the headlines Girls Rule! Yes! What a Kick!
Although plenty of male footballers had previously celebrated goals by tearing off their jerseys, the prospect of a woman doing the same was too much for some.
Critics felt it was inappropriate and Chastain was accused of shifting the focus away from the football and the tournament.
She wasn't apologetic but accepted not everyone approved.
"There's always going to be someone who says, 'Why did you do that? That's disrespectful,'" she says, but she didn't mind. "I was grateful for those comments because it gave me a new platform to express myself about what sport has given me.
"There's something primal about sport that doesn't exist anywhere else - when you have a moment like scoring a winning goal in the World Cup championship, you are allowed to release this feeling, this emotion, this response that is not elicited anywhere else."
She just wanted the team to be judged for their performance on the pitch, not for the brief moment when she took off her shirt.
Her eye-catching goal celebration came as women's football reached new levels of success.
More than 660,000 people packed into stadiums across the US to watch the Women's World Cup that year and more than 40 million people watched it on television in the US alone.
The final match drew record crowds - never before had so many people turned out to watch a women's sporting event.
For Chastain, it opened people's eyes to women's football. "Women's soccer was not anonymous any more - people were talking about it," she says.
There has been a significant increase in the number of girls playing the sport since Chastain started kicking a ball around four decades ago.
"More girls are playing football in America than any other sport," she says. "When I played college soccer there were 75 teams - now there are over 320 teams at the Division One level… women and men play it alike."