US Supreme Court hears arguments in mobile search case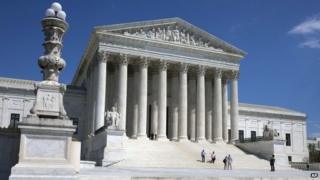 The US Supreme Court is hearing arguments over whether police may search a suspect's mobile phone without a warrant during an arrest.
The high court is weighing appeals by two people convicted based on evidence found on their phones.
The defendants argue their constitutional protections against unreasonable searches were violated.
But the government argues phones are no more shielded from searches than other articles police find during an arrest.
The Supreme Court has previously ruled that during an arrest, police do not need a warrant to empty a suspect's pockets and examine whatever they find in order to ensure officers' safety and prevent the destruction of evidence.
12 million arrested
In one case before the court on Tuesday, prosecutors used video and photographs found on David Riley's smartphone to persuade a jury to convict him of attempted murder and other charges.
Riley had been driving on a suspended licence, and police found guns in his car and charged him with carrying a concealed weapon, then searched his phone.
In the second case, Brima Wurie was arrested on suspicion of selling crack cocaine. On the "officer safety" grounds police examined the call log on his mobile phone and used that information to determine where he lived.
When they searched that residence, with a warrant, they found crack cocaine, marijuana, a gun and ammunition.
Under the fourth amendment to the US constitution, police and other government officials generally need to obtain a warrant from a judge before they can conduct a search. A warrant requires evidence that a crime has been committed by the suspect.
Lawyers for Riley and Wurie argue that allowing police to search mobile phones during the initial arrest would radically broaden police powers, because many arrests occur for minor violations and never end in conviction.
Same as papers
They say a phone's contents cannot be used as a weapon and that police could seize the phone without searching it to avoid the destruction of evidence.
The defendants are also backed by privacy advocates who say mobile phones, especially smartphones, contain enormous quantities of sensitive personal information that have no bearing on the arrest.
More than 90% of Americans own at least one mobile, according to the Pew Research Center. More than 12 million people were arrested in the US in 2012, according to FBI statistics.
On the government side, the state of California and the US justice department argue that mobile phones are often used in crime and that suspects could destroy evidence if the phones are not searched immediately.
They argue a person who is arrested has a lower expectation of privacy.
Regardless of how much information is carried on a phone, California argues in Riley's case that it is "not different in kind from wallets, address books, personal paper or other items that have long been subject to examination by police".
In Wurie's case, the First Circuit Court of Appeals rejected a similar argument from the government lawyers.