Clippers ban puts pressure on Washington Redskins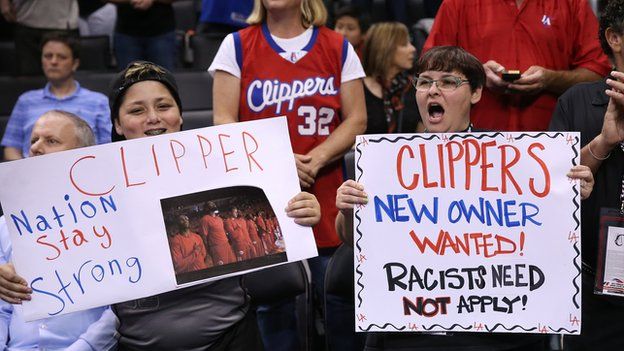 The fallout of the Clippers race row has spread to American football, with a senator urging the Washington Redskins to change their "degrading" name.
Democratic Senate Majority Leader Harry Reid said the National Football League should follow the lead of the National Basketball Association (NBA).
The NBA gave Donald Sterling, owners of the LA Clippers team, a lifetime ban from the sport for making racist remarks.
The Redskins deny their name is racist.
But Mr Reid called on the NFL to make Redskins owner Daniel Snyder bow to many years of criticism and come up with a new name because of the offence caused to Native Americans.
"I wonder, has the leadership of the National Football League taken notice of the NBA's decisive action?
"How long will the NFL continue to do nothing as one of its teams bears a name that inflicts so much pain on Native Americans? It is untoward of Daniel Snyder to try and hide behind 'tradition' in refusing to change the name of the team."
Pressure has been building on Mr Snyder for some time, from the highest level - last year President Barack Obama said the team owners should rethink the name.
As the action taken by the NBA was so well received, Mr Reid believes it should provide those who run American football with food for thought.
The president on Wednesday added his voice to the chorus of approval in support of the ban and the $2.5m fine for Mr Sterling.
The NBA also wants other team owners to force Mr Sterling to sell the Clippers, and a wide range of names have been touted as prospective buyers.
Television star Oprah Winfrey is in talks with billionaire media executive David Geffen and Oracle boss Larry Ellison to make a bid, according to her spokesman.
And boxing legends Floyd Mayweather and Oscar De la Hoya have also expressed an interest.
The row erupted when a 10-minute audio recording was published in which Mr Sterling criticised his girlfriend for posting photographs of herself with black friends at Clippers games.
"It bothers me a lot that you want to broadcast that you are associating with black people. Do you have to?" he says.
The remarks caused an immediate uproar among basketball fans across the country, and drew condemnation from President Obama.