Two Alaska 'reality show' troopers fatally shot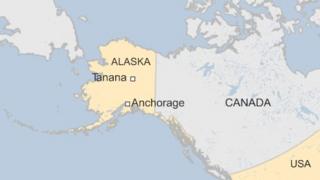 A teenager has been arrested over the fatal shooting in remote Alaska of two state troopers who had appeared in a reality television show.
Nathaniel Kangas, 19, is being held in connection with the deaths of Gabriel Rich and Patrick Johnson.
The two men had gone to the remote village of Tanana after reports someone was brandishing a firearm.
The troopers had featured on past episodes of the National Geographic Channel show Alaska State Troopers.
A man said to be Nathaniel Kangas' father has also been arrested in connection with a separate incident on Wednesday.
Arvin Kangas, 58, was charged with assault involving a village public safety officer.
Rich and Johnson were based in the troopers' rural service unit in Fairbanks and had travelled to Tanana - a village of 238 people accessible mainly by aircraft - on Thursday to investigate the matter.
Officials have not yet released details related to the troopers' shooting on Thursday.
National Geographic wrote in a statement it was "incredibly saddened" by their deaths.