One dead and hundreds evacuated in Oklahoma wildfire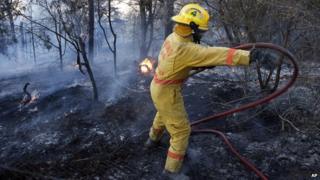 Emergency workers are struggling to contain a wildfire in the US state of Oklahoma after a blaze set by firefighters to clear brush spread out of control, leaving one person dead.
A local man was killed on Sunday after he refused to leave his home as the fire neared, a fire official said.
At least 30 buildings have been destroyed by the blaze and about 1,000 people evacuated, authorities said.
High winds and dry conditions in high temperatures fuelled the fire.
An unnamed man, 56, was found dead in his home after refusing to leave, fire chief Dan Thomas told reporters.
"He was asked by both family and law enforcement to evacuate," he said. "He chose not to do so and was subsequently found deceased later last night."
Fire officials said the blaze was 75% contained as of Monday afternoon, but 150 homes near the town of Guthrie remained in danger. The fire has burned about 3,500 acres (1416 ha).
Temperatures were expected to hit 100F (38C), along with high winds both on Monday and Tuesday, increasing the risk the fire would spread. Rain is not forecast in the area until Wednesday.
"We still have some concerns, we still have quite a few hot spots that we haven't been able to reach," Mr Thomas added.
Two Army National Guard helicopters were being used to help dump water on the fire, according to Capt Stan May of the Oklahoma Incident Management Team.
Guthrie Fire Chief Eric Harlow said 37 firefighters had been treated for heat-related issues while they were fighting the fire.
Oklahoma Governor Mary Fallin declared a state of emergency on Monday for counties throughout Oklahoma and a burn ban for 36 counties in the state, including the country where the fire started.
"One thing I know about Oklahomans is we're strong," Ms Fallin said on Monday. "We're resilient."
One resident, Tony Ergang, told the Associated Press news agency he heeded the warning but he returned on Monday to find smoke damage on the inside and burns on the outside of his mobile home.
But a neighbour's home was entirely destroyed.
"It's one of those things," he said. "It's like a tornado that tears through a house, leaving a napkin folded on the dining room table."
Rachel Hudson's home was lost to the blaze, and her family was seeking shelter at the local American Red Cross. Her house was uninsured.
"I'm scared," she told the AP. "I don't know what I'm going to do. We lost everything."