US man freed after being sent to jail 13 years late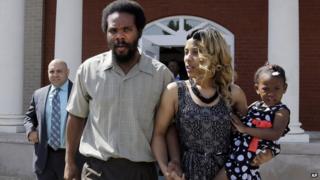 A US man, who authorities forgot to send to prison for 13 years, has been released after 10 months behind bars.
Cornealious "Mike" Anderson was sentenced in 2000 for armed robbery but only sent to prison in July last year.
In that time he got married twice, had children and started several businesses.
He said he made no attempt to hide his identity from the authorities, and even reminded them about his sentence.
Anderson said he was "very happy" after being released on Monday.
"My faith has always been in God, I'm just so thankful, thank God for everything," he said after the verdict.
Judge Terry Lynn Brown praised Anderson's behaviour since his conviction, saying: "You've been a good father. You've been a good husband. You've been a good taxpaying citizen of the state of Missouri.
"That leads me to believe that you are a good man and a changed man," the judge said.
The court considered the impact that imprisonment would have on his new family, as well as his conduct since the 1999 robbery.
Order never came
Anderson was 22 at the time of the robbery and had never been convicted of a serious crime before his 2000 sentence.
He was told to await for orders for where to report to prison, but they never came.
In July last year, as his sentence was due to end, a clerk at the Missouri Department of Corrections realised that he had never been sent to prison.
A police team was sent to his house without warning to arrest him.
In the time between his sentencing and his arrest, he married, divorced, married again, had three children and began to volunteer at a local church and football team.
Anderson says he never tried to conceal his identity, and renewed his driving licence and voter registration papers using his own name.
An online petition calling for his release drew more than 35,000 signatures.