Syrian opposition will have foreign mission in US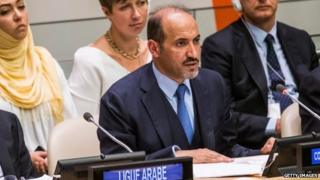 The US has said it will allow Syria's main opposition alliance to open a diplomatic mission in Washington.
The state department announced an additional $27m (£16m) in non-lethal assistance, and the stepping up of deliveries to the Free Syrian Army.
The move comes ahead of talks between senior US officials and Ahmed Jarba, president of the National Coalition.
The US first recognised the group as the legitimate representative of the Syrian people in December 2012.
The move does not mean the US recognises the National Coalition as Syria's government, nor grant its members diplomatic immunity, says the BBC's Barbara Plett in Washington.
Nor does it allow the opposition to take over the Syrian embassy, whose operations were suspended by the state department in March, our correspondent adds.
But an unnamed US official told the Associated Press that it had been a key request by opposition members, as they believe it will give them greater presence and credibility with officials in Washington and among Syrian expatriates in the US.
In a statement, Mr Jarba said the move was a "diplomatic blow against Assad's legitimacy and demonstrates how far the opposition has progressed".
The Syrian conflict began with largely peaceful protests in March 2011, but has since become a civil war that has left an estimated 150,000 people dead and displaced nine million others.
A delegation from the National Coalition, also known as the Syrian Opposition Coalition, arrived in Washington on Monday ahead of talks with state department officials.
Mr Jarba is expected to meet US Secretary of State John Kerry on Thursday.
His visit comes amid battlefield gains by forces loyal to Syrian President Bashar al-Assad's government.
Mr Assad has announced the country would hold presidential elections in June, a move the US has characterised as a "parody of democracy".
The $27m of aid would bring total US non-lethal assistance to $287m since the Syrian conflict began.
While the US government did not specify what type of aid would be given, past shipments to opposition military commanders have included communications equipment and computers, vehicles and defensive gear, such as body armour.