Rob Ford 'turned back' from US on way to rehab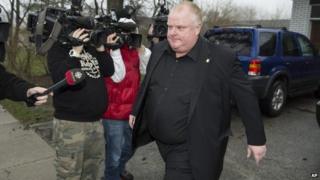 Toronto Mayor Rob Ford turned back after landing in the US last week, shortly after he announced he was entering rehab, say media reports.
The Canadian consulate said he "voluntarily withdrew" his request to enter the US after talks with border officials in Chicago.
His lawyer and brother have said he is now in treatment for substance abuse, but they refused to say where.
Mr Ford admitted to using crack cocaine in a "drunken stupor" last year.
He has already been stripped of many of his mayoral powers but refused calls to step down, running for re-election in October.
The embattled mayor announced he was starting a 30-day treatment course on Wednesday, as police investigated a new video that allegedly shows him smoking crack cocaine as recently as last month.
The following day, he boarded a plane in Toronto and flew to Chicago.
'Millionth time'
Roy Norton, the Canadian counsel general in Chicago, told the Globe and Mail newspaper Mr Ford had "voluntarily withdrew his application to enter the US" and was "not denied entry, per se".
Mr Norton told broadcaster CBC Mr Ford turned back after "discussion" with US border officials.
On Tuesday, Councillor Doug Ford confirmed his brother was in a treatment programme but would not say where.
"Yes, for the one-millionth time, Rob Ford is in a rehabilitation program," Mr Ford said, adding if he identified the location, he feared media organisations would stake it out.
Mr Ford refused to comment on what happened when his brother landed in Chicago.
The mayor's lawyer, Dennis Morris, also refused to disclose his client's location but said the "bottom line is he's in rehab"
"He'll be there for a number of weeks - and that's the answer," Mr Morris told the Globe and Mail. "It's not like he's at a baseball game in Los Angeles or something."
Mr Ford has visited the US this year, going to Los Angeles and appearing on a US chat show earlier this year.
Deputy Mayor Norm Kelly will serve as mayor during Mr Ford's leave of absence.
Mr Ford was first elected to lead Canada's largest city in 2010 on a pledge to tackle wasteful spending at city hall, drawing much of his support from the suburban areas of Toronto.
Two main challengers, John Tory and Olivia Chow, are vying to replace him as mayor in the 27 October election.