Abu Hamza trial: Injured hostage gives evidence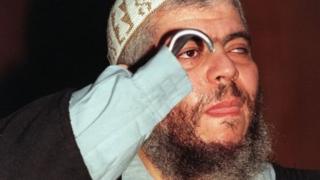 The trial of radical Muslim cleric Abu Hamza has heard evidence from a woman who was among 16 westerners taken hostage in Yemen in 1998.
Margaret Thompson told the court in New York that she was used as a human shield during an attempt by the Yemeni army to rescue those kidnapped.
Ms Thompson was shot and three British tourists and an Australian died in the December 1998 attack.
Abu Hamza is accused of assisting the kidnappers, but he denies all charges.
US prosecutors allege that the Muslim cleric provided a satellite phone and £500 worth of call time to help the kidnappers.
The jury also heard from an employee of a British satellite phone company, who said he sold him the phone and £500 of additional minutes.
Giving her evidence on Tuesday, Ms Thompson stared directly at Abu Hamza as she recalled the moment Yemeni soldiers mounted a rescue operation to free the mainly British tour group.
"It's goodbye to you all," one of the kidnappers told the captives, she said.
"I hoped it meant they were getting ready to release us, but I feared it meant we were going to die."
'Whizzing bullets'
Ms Thompson, who is from the US, had been among a group of tourists when their convoy was stopped on a road in southern Yemen.
Armed men blocked the road, commandeered the vehicles, and drove the tourists to the desert where they said they would use them in a prisoner exchange, the court heard.
The Yemeni military launched a rescue operation the next day, when Ms Thompson claimed the militants used the hostages as human shields.
The court heard that as bullets "whizzed" by, the witness was shot in the leg and her femur was shattered.
The injury left her unable to walk properly, Ms Thompson said.
Abu Hamza, who was born Mustafa Kamel Mustafa, denies 11 terrorism charges including providing support to al-Qaeda and trying to set up an al-Qaeda training camp in Oregon.
His lawyers claim he acted as a go-between during the 1998 kidnapping in a bid to negotiate the hostages' release. They say the one-eyed, handless imam is being prosecuted because of his controversial views.
The Egyptian-born radical was jailed in Britain for inciting murder and racial hatred with his sermons at a north London mosque, before being extradited to the US.
If convicted of the charges, he could be sentenced to 100 years in prison. He has pleaded not guilty.
On Wednesday, the terror trial will hear from Mary Quin, a New Zealand tourist who was also kidnapped. The court is expected to hear how she travelled to the Finsbury Park mosque where Abu Hamza once preached in London to confront him, and taped their hour-long conversation.
Abu Hamza is then expected to give evidence in his own defence at the Manhattan federal court.