Hillary Clinton warns US to 'rein in' gun culture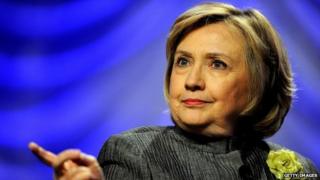 Hillary Clinton has said US gun culture has become "way out of balance" and attacked the notion that "anybody can have a gun, anywhere, anytime".
"I don't believe that is in the best interest of the vast majority," said the former secretary of state.
That belief does not conflict with the rights of people to own guns, she told a conference in Maryland.
Mrs Clinton is widely expected to enter the race to be Democratic presidential candidate for the 2016 election.
Speaking at the National Council for Behavioral Health conference in Oxon Hill, Maryland, on Tuesday, she pointed to recent shootings that involved teenagers.
"I think again we're way out of balance. I think that we've got to rein in what has become an almost article of faith that anybody can have a gun anywhere, anytime,'' Clinton said.
That's not in the majority's best interests, she added. "And I think you can say that and still support the right of people to own guns.''
After a mass shooting at a school in Newtown, Connecticut, in which 20 children and six school staff members were killed, the Obama administration tried to tighten up gun laws.
But the Democratic-controlled Senate voted against legislation pushed by the president that would have expanded background checks for firearm purchases to gun shows and online sales.
Tight-lipped
If Clinton runs for president, her views on gun control would clash with many Republicans, who have largely opposed efforts to tighten gun laws.
She warned that having so many people with fully licensed firearms on them in places like cinemas meant it more likely that shootings would happen over mundane issues.
In January a man was killed and his wife hurt after a shooting that arose from a dispute over the use of a mobile phone in a Florida cinema.
Mrs Clinton has refused to be drawn on whether she will run in 2016.
She told the conference she was still considering her future. "Stay tuned,'' she added.
The former secretary of state also made no mention of Monica Lewinsky, who on Tuesday broke her silence about her affair with Mrs Clinton's husband, Bill Clinton, when he was president.