Farley Mowat, Canadian author, dies at age 92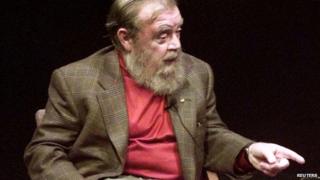 Famed Canadian writer Farley Mowat, author of some 40 books, has died at his home in Ontario at the age of 92.
He collapsed on Tuesday in Port Hope. A cause of death has yet to be determined.
Mr Mowat was best known for adventure and travel books, including Never Cry Wolf, a fictional narrative of a man living among wolves in the sub-arctic.
He won several prominent awards for his work, including the Queen Elizabeth II Jubilee medal.
Lifelong naturalist
"Mr Mowat was obviously a passionate Canadian who shaped a lot of my generation, growing up, with his books. He will be sorely missed," Liberal Leader Justin Trudeau said on Wednesday.
"So sorry to hear that [Mr Mowat] has died. Wonderful colleague & friend of many years," acclaimed author Margaret Atwood tweeted.
Mr Mowat was born in Belleville, Ontario in 1921. At the age of 18, he enlisted in the army to fight in World War Two.
The lifelong naturalist's first book, People of the Deer, was based on his time with the Inuit people in the Far North.
He was also an outspoken proponent of environmental and social issues, labelling Canada's treatment of aboriginals "abominable" and the country's annual seal hunt "atrocious".
His books were eventually translated into dozens of languages. More than 17 million copies have been sold worldwide.