US House approves new Benghazi inquiry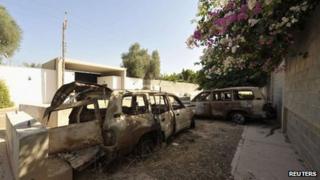 The US House of Representatives has voted to create a panel to investigate the White House response to the 2012 attack on the US consulate in Benghazi, Libya.
Republicans have said the Democratic Obama administration misled the public on the nature of the attack.
Four Americans including US Ambassador Chris Stevens were killed.
Democrats say the inquiry is a political ploy to raise campaign cash and motivate voters.
On Thursday, House Speaker John Boehner was asked questions regarding a fundraising pitch sent from the National Republican Congressional Committee.
The plea for donations reportedly said the House panel will not let anyone "get away" from the inquiry.
Representative Steve Israel of New York, the Democratic campaign committee chairman, accused the Republicans of using Benghazi to raise funds, which he said was "despicable and insulting".
Mr Boehner refused to criticise the fundraising drive.
'Organised attack'
The 11 September 2012 attack, in which gunmen stormed the US compound and set it on fire, has become a political lightning rod.
The Republicans have accused the Obama administration of covering up the involvement of militant groups in the days after the attack in order to protect President Barack Obama's 2012 re-election campaign.
The White House initially said the attack was sparked by protests about an anti-Islam video produced in the US.
Administration officials later found that it was an organised attack planned by local militias, although the New York Times claimed after an extensive investigation that some of the attackers were motivated by the film.
Ahead of the vote on Thursday, House Speaker John Boehner promised an "eminently fair" investigation to answer questions stemming from the attack.
The special panel was approved by a largely party-line, 232-186, vote and is said to be the eighth inquiry on Benghazi.
Previous independent, bipartisan and Republican-led inquiries have blamed the state department for inadequate security at the embassy.
Republicans have been very critical of then-Secretary of State Hillary Clinton, who is now weighing a 2016 presidential run.
Congressional Democrats, meanwhile, have argued that the panel will be too partisan in nature and have accused conservatives of using it to energise Republican voters prior to midterm elections in November.