NBA names Dick Parsons as new Clippers president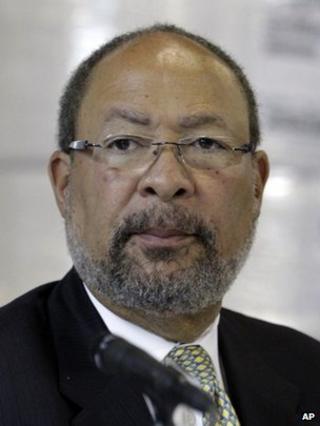 The National Basketball Association (NBA) has named a new interim president of the Los Angeles Clippers.
Dick Parsons, a former lawyer and chairman at Citigroup and Time Warner, will take over as the NBA tries to force a sale of the team.
Owner Donald Sterling was banned for life from the league after being recorded making racist remarks.
Mr Parsons will manage the franchise and represent it at owners' meetings while the NBA braces for a legal fight.
He told the Associated Press news agency he is hoping for a short stay as president but is committed to helping the team.
"This is an issue that's actually bigger than just the Clippers, bigger than just the NBA in my judgment," Mr Parsons, who is black, said.
"The whole world is kind of watching how, frankly, we as a country navigate our way through this crisis. So if I can help, I'm happy to try."
The league needs three-quarters of its owners to approve a sale, but Mr Sterling has suggested he will challenge any attempt to force him to sell.
Mr Parsons met NBA Commissioner Adam Silver on Monday and accepted the position on Thursday.
He knew Mr Silver when Time Warner owned the Atlanta Hawks and Mr Silver was the deputy commissioner of the league.
A former basketball player at the University of Hawaii, Mr Parsons was chairman of Citigroup after leading Time Warner. He has also been on President Barack Obama's economic advisory team.
Andy Roeser, the previously president of the team, has taken an indefinite leave of absence.
Earlier, a spokesman for the National Basketball Association (NBA) said his departure would allow the team's new executive to "begin on a clean slate".