Michael Sam becomes NFL's first openly gay player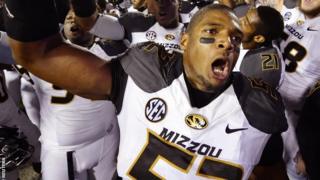 Former US college athlete Michael Sam has become the first openly gay player in history to be drafted into the National Football League (NFL).
The 24-year-old defensive lineman was selected by the St Louis Rams on the final day of this year's draft.
Sam's move to declare his homosexuality in February was applauded by many, including President Barack Obama.
Some pundits had speculated that teams might be put off from selecting Sam by the publicity surrounding the player.
'Not the last'
Sam - who had played college football at the University of Missouri - was chosen on the final day of the annual allocation of new talent.
He was contacted by Rams head coach Jeff Fisher, who told ESPN he was mainly focused on what the footballer could do on the field.
But Fisher added: "In the world of diversity we live in now, I'm honoured to be part of this and I'm excited about his opportunity to help this football team win."
In February, Sam told ESPN: "I came to tell the world I'm an openly gay man.
"If I work hard, if I make plays - that's all that should matter."
He had revealed his sexuality to his former college teammates, but admitted doing so publicly was "a weight off his chest".
"I probably may be the first but I won't be the last. And I think only good things will come from this," he added.
In February, Jason Collins become the first openly gay athlete to play in a competitive game for a major US professional sports league when he came on for the Brooklyn Nets against the LA Lakers.