Search for wreckage in deadly US hot air balloon crash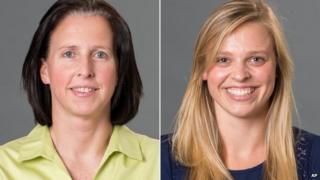 Officials are searching for the wreckage of a hot air balloon crash near Richmond, Virginia, after a third victim was found.
Two figures in women's basketball at the University of Richmond, as well as the balloon's pilot, were killed.
On Friday, the balloon hit a power line and burst into flames in front of a horrified US crowd.
Two passengers jumped or fell from the gondola as the pilot attempted to control the balloon, police say.
It had been one of 13 that took off from Meadow Event Park as part of a preview for the Mid-Atlantic Balloon Festival.
Recovery crews are still looking for the wreckage of the balloon. The balloon rapidly drifted upwards after the crash, being propelled by the intense flames beneath, witnesses said.
One witness told the Associated Press news agency those watching on the ground were in "complete silence".
"There were people praying. It was horrible," spectator Nancy Johnson said.
The University of Richmond identified Ginny Doyle, the university's associate head women's basketball coach, and Natalie Lewis, director of basketball operations, were on the balloon that crashed.
"Ginny and Natalie have been beloved members of our community," university president Edward Ayers said in a statement. "Their leadership and friendship will endure in the lives of so many."
A moment of silence was held at the university's graduation ceremony on Sunday for Doyle and Lewis.
In a statement to the Richmond Times-Dispatch newspaper, Lewis' family said they were "stunned and saddened beyond any understanding over what has happened to our beloved Natalie".
Also killed was pilot Daniel T Kirk, who had 20 years of flying experience and was affectionately known as "Capt Kirk".
Steve Hoffmann, who said he taught Kirk to fly and built the balloon he was piloting, said he was "not a hot dog, not a risk taker".
"It's so unbelievable that everyone's in shock," Mr Hoffmann said.
The remains of the third victim were found on Sunday. The other victims were discovered earlier.
State police spokeswoman Corinne Geller said another pilot said Kirk tried to open vents to release extra-hot air in an attempt to keep the balloon from rising faster.
"Based on witness accounts, he did everything he could to try to save the passengers' lives," Ms Geller said.
The Mid-Atlantic Balloon Festival, scheduled for Saturday, was subsequently cancelled after the crash.