Washington Monument reopens three years after earthquake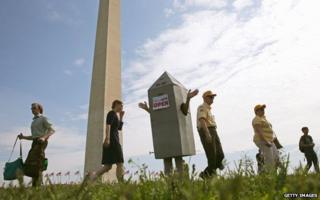 One of Washington's main tourist attractions, the Washington Monument, has reopened after nearly three years of repairs due to earthquake damage.
The 555-ft (169m) obelisk built to honour the first US president was cracked after a rare 5.8-magnitude quake shook the area in August 2011.
Public tours are to resume at 13:00 local time (17:00 GMT) after an opening ceremony.
The monument normally attracts some 600,000 visitors a year.
But it was closed to the public after the earthquake shook free mortar inside and outside of the monument and cracked marble along the obelisk and in the pyramid at the top.
Engineers evaluated the damage to the 130-year-old monument by abseiling from the top, dangling from ropes.
Since then more than 150 cracks have been repaired, rainwater leaks have been sealed, and the lift to the top of the monument has been repaired.
Workers used salvaged material or stone from the same Maryland quarry as the monument's original marble, saved from the steps of old Baltimore row houses.
The US Congress had allocated half the budget for the repair project, and a Washington businessman, David Rubenstein, pledged another $7.5m (£4.4m) to complete the work.