Court stays execution of Texas inmate Robert Campbell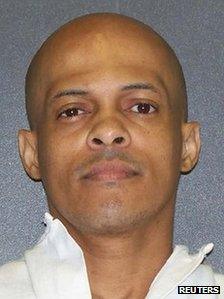 A US court has stayed the execution of a Texas man who was to be the first inmate put to death in the US since Oklahoma prison officials botched a lethal injection in April.
Robert James Campbell, 41, killed a 20-year-old bank teller in 1991 and was scheduled to die on Tuesday evening.
But a federal appeals court delayed the execution after his lawyers argued he was intellectually disabled.
His lawyers said that would make him ineligible for the death penalty.
"We have been presented with evidence that Campbell, who will soon be executed unless we intervene, may not constitutionally be executed," the Fifth Circuit Court of Appeals ruled.
Campbell's lawyer Robert Owen said his client's "lifelong mental retardation was not proven until new evidence, long hidden by prosecutors and the Texas Department of Criminal Justice, very recently came to light".
According to Mr Owen, Campbell was evaluated by a psychologist who confirmed he suffered from mental retardation.
Campbell was convicted in the 1991 slaying of Alexandra Rendon, who was abducted while putting petrol into her vehicle, raped and then shot to death.
Lawyers for Campbell had also made a last-minute appeal to the US Supreme Court to compel Texas to identify the source of its lethal injection drug.
They had argued keeping the origin of the drug secret put him at risk of inhumane and unconstitutional suffering.
Lawyers for the state of Texas earlier said the argument was speculative.
"The constitution does not require the elimination of all risk of pain," said Assistant Texas Attorney General Ellen Stewart-Klein.
Last month, Oklahoma convicted murderer Clayton Lockett died of a heart attack after the executioners reported trouble injecting the drugs.
They took 51 minutes to find a suitable vein for the injection, then did not realise the one they had chosen in his groin had collapsed.
He died 10 minutes after his execution was halted as he writhed and mumbled.
Oklahoma used a three-drug combination in Lockett's execution. Texas uses a single dose of the sedative pentobarbital to kill inmates.
The Fifth Circuit Court of Appeals rejected Campbell's appeal on the drug secrecy issue on Monday.