Magic Johnson 'prays' for LA Clippers' Donald Sterling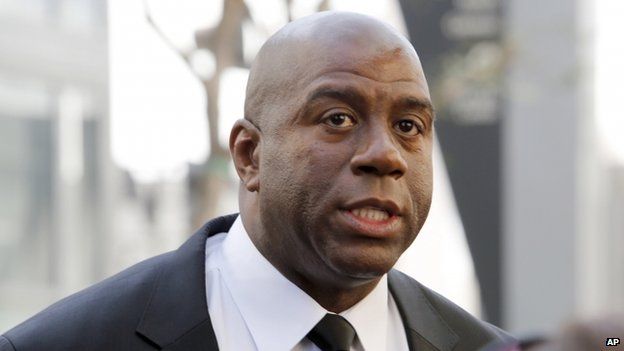 Basketball legend Earvin "Magic" Johnson has said he will pray for LA Clippers owner Donald Sterling, who is embroiled in an ongoing race row.
He rejected Mr Sterling's remarks a day earlier that the HIV-positive ex-player had done nothing to help others.
"My whole life is devoted to urban America," Mr Johnson, 54, told CNN.
In April Mr Sterling, 81, was banned from the National Basketball Association after making racist remarks in reference to a photo of Mr Johnson.
Mr Johnson's remarks on CNN on Tuesday night came in response to a second round of comments that Mr Sterling made the previous day.
"What kind of a guy goes to every city, has sex with every girl, then he catches HIV?" Mr Sterling told CNN's Anderson Cooper on Monday. "Is that someone we want to respect and tell our kids about? I think he should be ashamed of himself. I think he should go into the background. But what does he do for the black people? He doesn't do anything."
On Tuesday, in his own interview with Mr Cooper, Mr Johnson responded, "I'm a God-fearing man and I'm going to pray for him and hope things work out for him.
"But he's a man who's upset and he's reaching. He's reaching. He's trying to find something that he can grab on to help him save his team. And it's not going to happen."
The row began last month after a recording surfaced in which Mr Sterling was heard asking a woman - later identified as his girlfriend - not to associate in public with black people, nor to bring them to games.
Those comments were reportedly prompted in part by a photo that circulated on social media in which Mr Johnson posed with the woman.
Subsequently, NBA Commissioner Adam Silver banned Mr Sterling from the sport and fined him $2.5 million (£1.5m). The NBA has also initiated proceedings to force him to sell his ownership stake in the LA team.
In his interview with Mr Cooper that aired on Monday, Mr Sterling apologised for the remarks in the recording, saying he was "emotionally distraught" over the comments and that they were a "terrible mistake".
But he also said he was "baited" into making the remarks, and said he had delayed in apologising because Mr Johnson had told him to stay quiet.
"Wait, be patient, I'll help you, we'll work it out," Mr Sterling said Mr Johnson told him.
Mr Sterling also implied that Mr Johnson told him to delay apologising so he could buy the LA Clippers team.
Mr Johnson, one of the greatest basketball players in NBA history, was diagnosed with HIV in 1991, left the sport for four years, then returned for the 1995-96 season before retiring as a player.
He has yet to comment publicly on whether he plans to pursue an ownership position.
Meanwhile, the Clippers are competing in the NBA's Western Conference semi-final playoffs. On Tuesday evening the series against the Oklahoma City Thunder was tied 2-2.