Rate of US bicycle commuters rises by 60%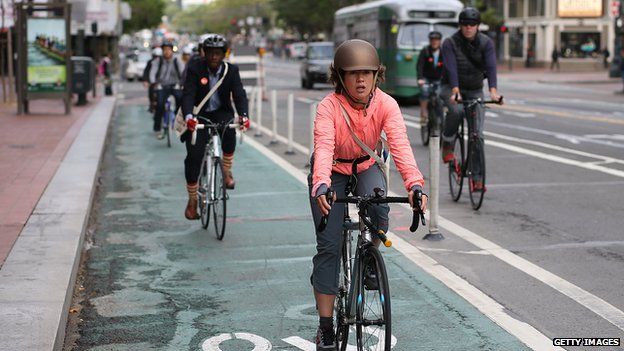 The number of US commuters who ride a bicycle to work rose by 60% over the last decade, the Census has reported.
An estimated 786,000 people biked to work in 2008-12, up from 488,000 people in 2000, the bureau said.
Cyclists account for about 0.6% of all US commuters, compared to 2.9% in England and Wales, a 2013 report found.
The rise comes as a growing number of states and local communities build infrastructure such as bike lanes to promote cycling.
"In recent years, many communities have taken steps to support more transportation options, such as bicycling and walking," Census Bureau sociologist Brian McKenzie wrote in a statement accompanying the report.
The US West had the highest rate of bicycle commuters at 1.1%, and the South the lowest with 0.3%.
The city of Portland, Oregon, registered the highest rate of bicycle commuting with 6.1%,, up from 1.8% in 2000.
Men were found to be more likely to bike to work than women, and the median commute time for bicyclists was found to be 19.3 minutes.
Meanwhile, the study found that 2.8% of commuters walk to work, down from 5.6% in 1980.
The North-East was has the highest rate of commuters who walked to work, at 4.7%.
Boston, Massachusetts, was the top walk-to-work city at 15.1%, while the US South had the lowest regional rate at 1.8%.