China denounces US cyber-theft charges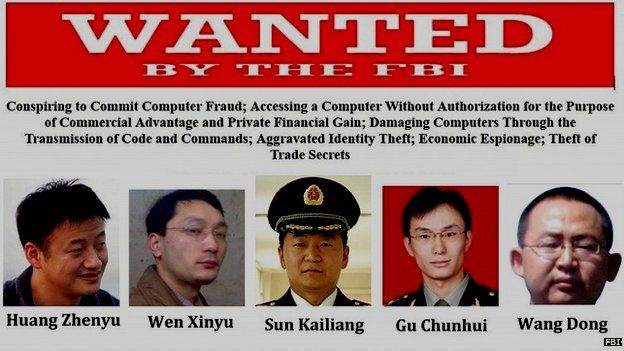 China has denounced US charges against five of its army officers accused of economic cyber-espionage.
Beijing says the US is also guilty of spying on other countries, including China, and accuses the US of hypocrisy and "double standards".
China has summoned the US ambassador in Beijing over the incident. It says relations will be damaged.
The BBC's John Sudworth in Shanghai says it is extremely unlikely that any of the accused will ever be handed over to the US.
China's defence ministry put out a strongly-worded statement on its website on Tuesday saying that China's government and its military "had never engaged in any cyber espionage activities".
It also took aim at the US, saying: "For a long time, the US has possessed the technology and essential infrastructure needed to conduct large-scale systematic cyber thefts and surveillance on foreign government leaders, businesses and individuals. This is a fact which the whole world knows.
"The US' deceitful nature and its practice of double standards when it comes to cyber security have long been exposed, from the Wikileaks incident to the Edward Snowden affair."
Analysis: Carrie Gracie, BBC China editor
China always insists it is a victim of hacking, not a perpetrator. And when US intelligence contractor Edward Snowden appeared in Hong Kong a year ago with evidence of US hacking into Chinese networks, Beijing felt vindicated.
The US acknowledges that it conducts espionage but says unlike China it does not spy on foreign companies and pass what it finds to its own companies.
Beijing typically shrugs this off as a smear motivated by those who find its growing technological might hard to bear. But to see five named officers of the People's Liberation Army indicted by a US grand jury is not something that can be brushed aside so easily.
China has already announced the suspension of co-operation with the US on an internet working group. And once it has had time to digest this loss of face, it is likely to consider more serious retaliation.
The defence ministry added that China's military had been the target of many online attacks, and "a fair number" of those had been launched from American IP addresses.
It said the arrest of the five Chinese army officers had "severely damaged mutual trust".
A Xinhua report on Tuesday stated that between March and May this year, a total of 1.18 million computers in China were directly controlled by 2,077 machines in the United States via Trojan horse or zombie malware.
Chinese Assistant Foreign Minister Zheng Zeguang lodged a "solemn representation" with US ambassador Max Baucus on Monday night, Xinhua reported.
On Monday US Attorney General Eric Holder said a grand jury had laid hacking charges against the Chinese nationals, the first against "known state actors for infiltrating US commercial targets by cyber means".
He identified the alleged victims as Westinghouse Electric, US Steel, Alcoa Inc, Allegheny Technologies, SolarWorld and the US Steelworkers Union.
"The alleged hacking appears to have been conducted for no reason other than to advantage state-owned companies and other interests in China, at the expense of businesses here in the United States," Mr Holder said.
In the indictment brought in the western district of Pennsylvania - the heart of the US steel industry - the US named Wang Dong, Sun Kailiang, Wen Xinyu, Huang Zhenyu, and Gu Chunhui, all officers in Unit 61398 of the Chinese People's Liberation Army (PLA), as the alleged conspirators.
FBI officials said the hacking - between 2006 and 2014 - caused "significant losses" at the companies and that there were likely to be many more victims.
Last year, cyber-defence company Mandiant published a report on a Chinese military unit the firm said was behind the vast majority of significant attacks on American federal agencies and companies.
In March, Defence Secretary Chuck Hagel said the Pentagon planned to more than triple its cyber-security capabilities in the next few years to defend against such internet attacks.
•A unit of China's People's Liberation Army, to whose Shanghai address US cyber security firm Mandiant says it traced a prolific hacking team
•The team was said to have hacked into 141 computers across 20 industries, stealing hundreds of terabytes of data
•Mandiant says the team would have been staffed by hundreds, possibly thousands of proficient English speakers
•China said Mandiant's report was flawed and lacked proof