Oregon same-sex marriage ban struck down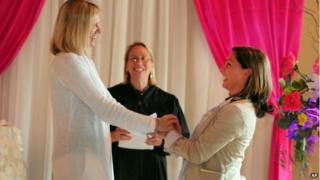 A US judge has struck down the US state of Oregon's ban on same-sex marriages, as couples queued up at the courthouses in anticipation of the ruling.
Judge Michael McShane said the 2004 voter-approved ban discriminated against gay and lesbian couples.
Lawyers for the state refused to defend the ban in court and will not appeal.
The ruling is the latest in a series of court cases overturning state bans on gay unions, following a ruling by the US Supreme Court in 2013.
Last week, more than 540 same-sex couples married in Arkansas before the state's Supreme Court suspended a lower judge's ruling that struck down the ban.
Including Oregon, 18 states and the District of Columbia have fully legalised same-sex marriages.
'Fallen into place'
In Oregon, state officials said they expected the first same-sex marriages to be solemnised soon after Judge McShane's ruling.
Same-sex couples formed a queue in the city of Portland even before the judgment.
Among those waiting were Laurie Brown and Julie Engbloom, a couple for 10 years.
"We always knew we wanted to spend our whole life together," Ms Brown told the Associated Press news agency. "This opportunity has come, it feels right, everything has fallen into place."
The case was brought by four gay and lesbian couples in Oregon who argued the state's 2004 voter-approved ban unconstitutionally discriminated against them.
State Attorney General Ellen Rosenblum refused to defend the ban, saying there were no legal arguments to support it after the US Supreme Court struck down a federal law defining marriage as between one man and one woman in June.
And a US appeals court rejected a bid by an anti-gay marriage organisation, National Organization for Marriage, to be allowed to appeal the ruling in the lieu of the state.
Since December 2013, federal judges in Utah, Oklahoma, Virginia, Michigan and Idaho have ruled similar bans in those states unconstitutional.
But the rulings have been suspended until appeals can be heard by the higher, regional appeals courts.
Judges also have ordered Kentucky, Ohio and Tennessee to recognise same-sex marriages from other states.
Arkansas's ban was overturned on 9 May by a judge in Pulaski County, the state's most populous. The state Supreme Court will now hear an appeal.