Chipotle asks customers not to bring guns into restaurants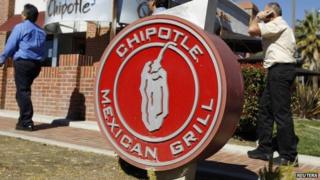 US fast-food chain Chipotle has asked customers not to bring firearms into its restaurants, after a group of gun rights advocates carried assault-style rifles into one in Texas.
Following the display, a gun control group launched an online petition to put pressure on the company.
Chipotle said the guns caused "many of our customers anxiety and discomfort".
Many US states allow people to carry guns in some fashion, but businesses may ban them.
Chipotle, which serves Mexican-style food, joins coffee giant Starbucks in requesting customers not bring guns into their locations.
In a statement provided to the BBC, Chipotle said it previously deferred to local laws as to do otherwise would "put our team members in the uncomfortable position" of asking customers not to carry guns.
But it was now "respectfully asking that customers not bring guns into our restaurants" unless they were law enforcement officials.
"The vast majority of gun owners are responsible citizens and we appreciate them honouring this request," Chipotle said in its statement, adding it was the role of elected officials "to set policy in this area, not the role of businesses like Chipotle".
The chain operates more than 1,400 stores across the United States.
It unveiled the change after a national gun control group, Moms Demand Action for Gun Sense in America, announced a petition asking the chain's chief executive Steve Ells to prohibit firearms in all Chipotle restaurants, circulating two photos of people posing with firearms inside and outside a Chipotle restaurant.
"Moms are grateful to Chipotle for taking quick action," Shannon Watts, founder of Moms Demand Action, said on Tuesday.
"Businesses have a duty to protect their employees and patrons - especially in states where no background checks or training are required to buy semi-automatic rifles and carry them openly in public."
The gun control group, backed by former New York City Mayor Michael Bloomberg, said it received 10,000 signatures in a few hours.
Open Carry Texas founder CJ Grisham told the Forbes website his group went to a Chipotle at the weekend not to demonstrate but for a meal following an event.
"We always let the manager know we're coming," he said. "We're peaceful, we're looking for a place to eat, but we have guns. If we're not welcome, we're not going to spend money there."