Half of US Senate says Redskins should change name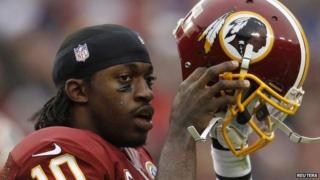 Half of the US Senate has called on the NFL to order the owner of the Washington Redskins team to change its name, calling it a "racial slur".
In a letter to Commissioner Roger Goodell, the senators said the league can "no longer ignore" calls from Native American groups.
President Barack Obama, an American football fan, has urged the Washington DC team to consider changing it.
But owner Daniel Snyder has refused, saying it honours Native Americans.
And he has cited polling he said suggested the public opposed a name change.
'Mocked' every Sunday
In a letter dated Wednesday, 49 senators - 48 Democrats and one independent - said the recent condemnation by National Basketball Association (NBA) Commissioner Adam Silver of racist comments from Los Angeles Clippers owner Donald Sterling "sent a clear message that racism will not stand in the NBA".
"We urge you and the National Football League to send the same clear message as the NBA did," the senators wrote, adding it was the "opportunity for the NFL to take action to remove the racial slur from the name of one of its marquee franchises".
"What message does it send to punish slurs against African Americans while endorsing slurs against Native Americans?"
The letter said tribal organisations representing more than two million Native Americans across the US have said they want the Redskins name dropped.
Despite federal laws intended to protect tribal culture and identity, "every Sunday during football season, the Washington DC football team mocks their culture."
Senate Majority Leader Harry Reid and Senator Maria Cantwell, chairwoman of the Senate Indian affairs committee, led the letter-writing effort. Florida Democrat Bill Nelson wrote separately.
Republicans were not asked to sign the letter, the Associated Press reported.
Mr Reid has said on the Senate floor that Mr Snyder should "do what is morally right" and change the name.