Obama leads tributes to US war dead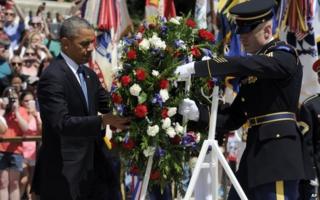 President Barack Obama has laid a wreath at a national cemetery as the US marks Memorial Day by remembering soldiers who have lost their lives.
Hours after returning from a visit to US troops in Afghanistan, Mr Obama paid tribute at Arlington in Virginia to those who lost their lives in the war.
"We honour them always," he said, as he reaffirmed the war will end this year.
Memorial Day is a national holiday in the US, when the nation remembers the dead and honours those still serving.
The weekend of remembrance events began on Saturday when Defense Secretary Chuck Hagel attended a ceremony at the World War Two Memorial in Washington and thanked the veterans and their families.
"You inspire us, you make us better. And we are grateful," he said.
The following day, thousands of bikers rode into Washington DC to pay their respects at the war monuments, in a long-standing tradition called Rolling Thunder.
Mr Obama laid a wreath at the Tomb of the Unknown Soldier at Arlington National Cemetery on Monday morning, in a ceremony attended by Mr Hagel, Vice President Joe Biden, First Lady Michelle Obama and hundreds of veterans and their families.
He paid tribute to the country's fallen heroes and their bereaved relatives.
"Through almost unimaginable loss, these families of the fallen have tapped a courage and resolve that many of us will never know. And we draw comfort and strength from their example."
He had landed at Andrews Air Force Base in nearby Maryland at 0640 local time (1140 BST) and then flew to the White House by helicopter where he hosted a breakfast for veterans and top US commanders.
His four-hour visit to Afghanistan provoked a clash with outgoing Afghan President Hamid Karzai, who refused to travel to Bagram to meet Mr Obama at the US base.
"The government of Afghanistan is prepared to warmly welcome the US president in the presidential palace, but it does not intend to go to Bagram to meet Obama," said an Afghan statement.
The White House was forced to re-issue its list of attendees on Mr Obama's visit after mistakenly blowing the cover of a top CIA officer there.
His name and title were released in an email sent to reporters who travelled with the president.
Memorial Day this year comes in the midst of a scandal involving the medical care being given to the country's veterans.
Some have reportedly waited months to be seen, and there are allegations that the delays have been covered up by Veterans Affairs (VA) which arranges the care.
The president had vowed to punish any wrongdoing and Mr Hagel told CNN the allegations "make me sick".