Chicago push to videotape gun sales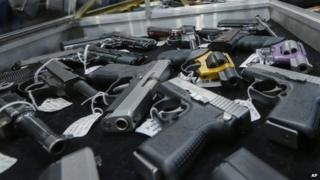 Chicago Mayor Rahm Emanuel has proposed an edict that would bar gun shops from operating in 99.5% of the city and require video of each sale.
The proposal comes in response to a court order overturning the city's ban on handgun sales.
Chicago has some of the strictest gun laws in the US and a gun-related murder rate three times higher than New York's and twice Los Angeles's.
Some city leaders expect this latest plan to be challenged in court.
The package of measures includes:
videotaping of all sales in gun shops
prohibit gun sales within 500 feet of schools or parks
limiting sales to one per month per buyer
a 72-hour waiting period to buy handguns, 24 hours for rifles and shotguns
gun store employees to undergo background checks
When asked whether videotaping sales amounted to intimidation, Mr Emanuel said cash withdrawals were also on film.
"Gun control is essential to our public safety," he said.
Joe Moreno, a Chicago City councillor, told the Associated Press news agency he expects the proposal to become law but also anticipates a court challenge.
But Mr Moreno said he believed violence in the city required tough rules: "I think we need to err on the side of being stricter."
A US judge struck down Chicago's ban on sales and transfers of firearms in January, finding the city went too far in its effort to prevent legal sales of guns.
Judge Edmond Chang allowed it to stand while the city appealed and gave officials until 14 July to put gun store rules in place.
The rule would allow gun stores to operate in only specific commercial areas, and not near schools or parks - limiting gun stores to set up in 0.5% of the city's area.
Richard Pearson, the executive director of the Illinois State Rifle Association told the New York Times the proposed rules would unfairly target legal businesses.
"He's trying to control legal gun purchases, but he's saying that he's doing this to control illegal gun traffic," Mr Pearson told the newspaper. "It's baloney."